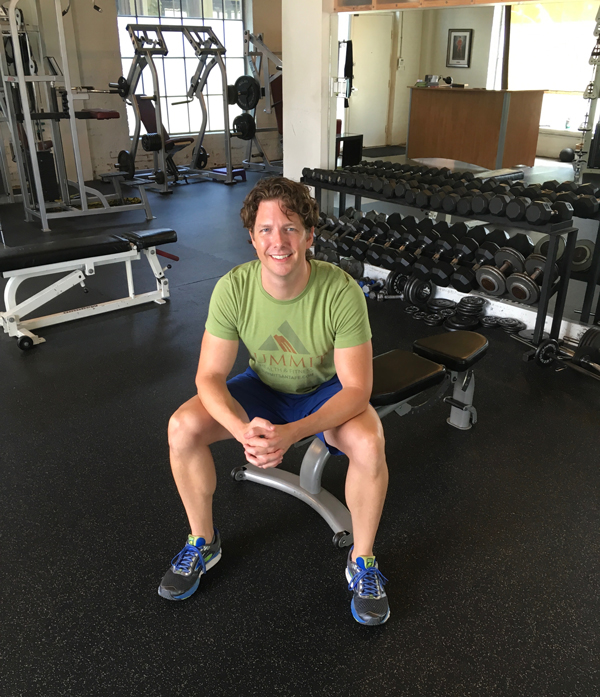 The public perception of today's fitness world is dominated by personal trainers on Instagram showing off sculpted bodies and dynamic workouts, but fitness goes far beyond this digital cliche. Personal training isn't just about performance and body sculpting. It can also be about healing and helping others conquer everyday obstacles that limit them. Chris Sokol-White has taken his calling of fitness and shaped and expanded his career to include helping people with chronic conditions that make daily life difficult.

We recently had an eye-opening conversation with Chris about his philosophy and practices in personal training, as well as his journey from Houston to Santa Fe.

Are you from Texas originally? Is that where you grew up?

Yes, I grew up in Sugarland, Texas, a suburb of Houston. I went to the University of North Texas, north of Dallas. After graduation, I stayed in Dallas for about ten years before moving back to Houston when I was 28. I was not happy with what I was doing in the corporate world in Dallas, and it just wasn't for me. So, with my family's support, I moved back to Houston to restart my life.

Is that when you found your calling for fitness?

Yes. I was working sales at a gym in Houston, and my dad gave me the idea of being a personal trainer since I was so into fitness. He pointed me in the right direction, and it's become the thing I'm passionate about and still doing today. I've been a personal trainer for 11 years, working with traditional general fitness clients and also specializing in working with people living with chronic conditions. I work with people with Parkinson's, MS, joint issues, fibromyalgia, cancer survivors, strengthening pre and post-surgery, etc. It's a rare day when I haven't worked with someone with these types of problems.

That's really impressive. Is that what brought you to Santa Fe? How did you find Santa Fe?

My husband, Kevin, introduced me to Santa Fe about ten years ago, and I just fell in love with it. Almost all our trips became about coming here and exploring it more. We love how beautiful it is and how easy it is to get around, especially coming from a large city like Houston. We enjoy how you can be outside on a hike or go skiing within a short drive, so it's easy to get outside and get moving.

You have your personal training business in Santa Fe now, but what was the transition for you like? Did you start your specialization in chronic conditions in Texas and then brought it to Santa Fe? It's a lot different than what you usually think of with personal training. You typically think of it as physique oriented, but your business is also therapeutic and quality of life-based.

I was fortunate when I first started training in Houston. I had some amazing mentors in my corner, who I worked with on and off over the years and have always maintained relationships with them. They taught me early on not to be afraid to deal with people that are living with chronic conditions or reluctant to do take on a challenge that I've never dealt with. Researching issues is easy. Harvard Medical School or Harvard physical therapy school has a lot of their physical therapy information on their website.

I also view the body as a puzzle, especially when you have somebody with something chronic. You have to be willing to be flexible and not so hard in your regimen, that you're not willing to change and be flexible with your client. You have to know what they're going through, how to work with their body and know how to change your program if needed. I started with that philosophy early on in my career.

What are some of the issues you help your clients with?

Frozen shoulders, joint and knee issues. Some of those can be about treating and strengthening the muscles around the bone or joint to enhance the area. I help cancer survivors depending on the surgery they've had or the amount of treatment. Many times, it's an emotional trauma that I'm helping them through. For example, say I'm helping a woman that is a breast cancer survivor. Often, they are disconnected from their breasts and their chest area. So, what happens is when they're trying to do a chest press, for instance, their chest won't turn on. The shoulders and arms will do the work, but it's like the chest is entirely not there because they're disconnected from it emotionally. When they get the news of cancer their whole life gets turned upside down and they don't get a chance to deal with the emotional stuff that's happening because there's no time. They have to go right into a specific emotional place to fight for their life. So, what I do is help them get to a place where they can engage and connect with those areas again, and it's great for their physical health and emotional wellbeing.

So, you act as somewhat of a bridge between physical therapy and personal training but what you do is more sustainable. Physical therapy is treatment oriented with a timeline of treatment. It fascinating that there is this mental and spiritual aspect to what you do. People think of going to personal training to get fit or healthy, but your program is not only about that but about getting over the physical or mental trauma.

You mentioned you help a lot of women who are breast cancer survivors. How do you get women to place that much trust in you when dealing with something so personal?

Being a gay male, I look at myself as a hybrid. I'm a non-threatening male so, I can talk to a woman about her breast in a non-threatening way. And, it's not just breast cancer survivors. I've had clients with surgeries that left scars in different areas of the body. It's about being sympathetic and understanding in a non-threatening way, so we can dive deep into the interconnected physical and emotional issues to treat them.

Was it a smooth career transition when you moved to Santa Fe from Houston or was it more challenging since you were coming from a large major city to a smaller one?

It was a smooth transition, as far as I knew what I wanted to do. I knew I wanted to continue my work, keep learning and to continue working with my general fitness and special population clients. I didn't expect to be very busy for about a year, but that was not the case. There are a lot of people in Santa Fe that need the specialization that I provide. I do have clients across the board. I have straight female clients, gay male clients, straight male clients and clients of all ages.

Where do you work from? Do you work out of a gym or in people's homes?

I work out of the Santa Fe Spa on Mondays, Wednesdays, and Fridays. On Tuesdays and Thursdays, I am at the Montecito, which is a senior living community. That's where I teach my Rocksteady boxing which is boxing for people living with Parkinson's. I have also modified that class to be a senior conditioning class. The boxing classes are boxing conditioning. So a lot of things that boxers work on, hand-eye coordination, speed, agility, rhythm help seniors and people with Parkinson's because those are things they are having an issue with. We also do weights and brain games to develop those skills as well. In addition, I have private clients where I do private home training.

We talk a lot about how young people can find a place in this town, and it sounds like you were able to do that. What tips or advice do you have for young people moving to Santa Fe because there are a lot of people in their 20's or 30's wanting to move here but only see a place for retirees?

I treat it like I still live in a big city. In every industry here, the cream rises to the top. I operate my business here just like I did in Houston where there were 1,500 trainers lined up on the block to take my place. So, I'm always on time, I'm prepared, and I work hard. When I'm with my client, I'm present and focused on them and their needs. I'm not that trainer on my phone or taking photos. I think it helps to have an entrepreneurial spirit, to be able to reinvent yourself and work hard when you move here. You have to be able to take whatever skillset you have and translate it to Santa Fe and be open to the opportunities that will come your way.
Click here to learn more about Chris's personal training system.